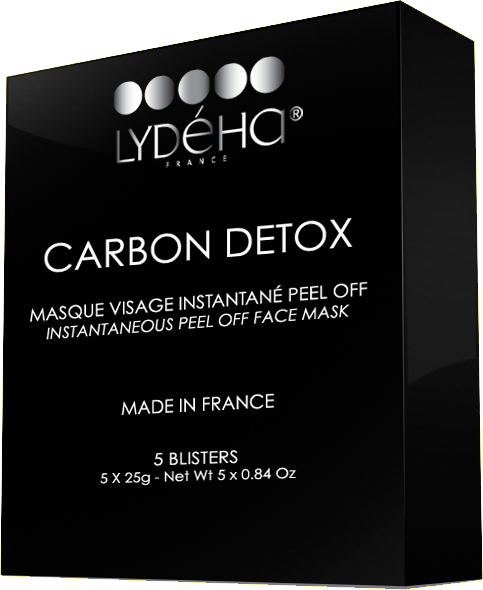 PEEL OFF MASK- CARBON DETOX
EXCLUSIF URBAN SKIN CARE
In a few seconds, let the powder mix with water in a gorgeous detox peel off mask.
A revolutionary concept: the Carbon Detox Peel-off will surprise you by its innovative process. When mixed with water, the preservative free carbon powder transforms instantaneously in a smooth texture which easily spreads on the skin and is easily peeled-off as well once used.
The Carbon Detox Peel-off protects the skin and sweeps away the pollution toxins thanks to the absorbtion power of the activated carbon.
Strengthened barrier effect
The vegetal carbon we use is the more natural decontamination agent existing. Its main quality is to powerfully absorb and then to retain impurities and toxins. It is associated in this mask with an anti-pollution complex composed with ivy, sunflower and ricebran; this complex acts especially against the cytotoxic effects of smog. This mask creates also a protective screen which strengthens the skin's barrier.
Detox activity
The carbon is known for its natural detox capacity. It is able to remove the impurities and to sweep away the sebum excess too: it is a precious active ingredient for treatments of mixed and greasy skins.
Available in blisters 5x25g / 5x0.84oz. - 150€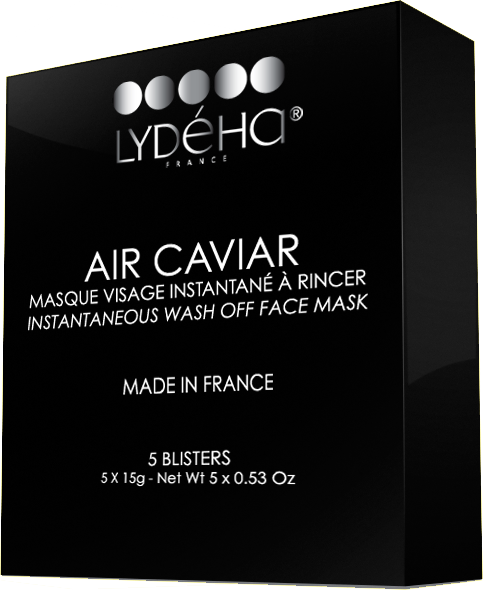 WASH OFF MASK - AIR CAVIAR
A CLOUD OF SMOOTHNESS FOR YOUR FACE BEAUTY
A new cosmetic concept, a luxury mousse & ultra-fresh texture in an instantaneous wash-off face mask. In a few seconds, let the powder mix with water become a very unique face mask.
Such as a soft cloud, it surprises by its light airy texture which easily spreads on the skin giving a feeling of instant softness and a light skin hydration. The natural powder, preservative free, has a nice white colour sprinkled with light blue flakes. This fantastic foam offers to your skin all the virtues of caviar.
Restructuring activity
The caviar is a potent source of energizing substances, composed especially with phospholipids, phosphor proteins. They play an important roles on the moisturization, in synergy with the cellular activity stimulating, regenerating and renewing the cell metabolism. As revitalizing treatment, the caviar mask leaves the skin toned, smoother and replenished.
Anti-ageing effect
Through strong anti-oxidant properties, the caviar prevents the cells membrane destruction while neutralizing the free radical scavengers responsible for the cells' ageing. The caviar extract associates with natural tocopherol will enhance the anti ageing effect. The skin's elasticity is regulated and refined.
Available in blisters 5x15g / 5x0.53oz. - 150€