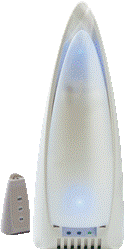 MontBlanc Diffuser
The very best way to diffuse and keep all the benefits of top quality essential oils. This new diffuser called "MontBlanc", offers new fucntions and design.
Diffuse with ultrasonic system, cold process.
Because it is not warming oils this process is the best one nowadays to keep all the intergity of the essential oil properties. Humidify the atmosphere. Negatives ions enhance and purify the air. Last long, more than 10 hrs with only one filling service!
Infra-red remote works until 10 Meters. Diffuses with no noise. Integrated automatic timer, stops alone when finished.
Very simple to use. Cost efficiency, allows you to use the right amount of essential oils (drop by drop). It has a changeable ceramic disk.
(Works without internal plastic cups). 110x110x300mm - 0.7kg
150€